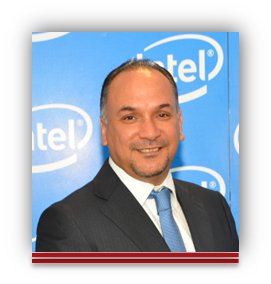 Sameh Elmallah is the Managing Director for Intel Egypt & Levant region. Prior to that, he was the Business development Manager and Commercial Business Lead at Egypt and Levant region for Intel Corporation working closely with government officials as well as with non-government organizations, education content providers, global & local industry, and educators.
As part of his role as a Business Development Manager, he also assumed responsibilities like the World Ahead[1] program lead in Middle East region, in which he drive a program to reaching the 'next' billion users by using broadband Internet connectivity, affordable state-of-the-art computer technology, collaborative rich-media content, and interactive 1:1 education environments.
Sameh successfully launched key education transformation programs in several countries in the region to increase ICT adoption in education and help children develop essential 21st century skills that will prepare them for higher education and thrive in today's global economy.
Before joining Intel in 2008, Sameh was country manager for Raya Algeria, prior to this he directed project management organization delivering large scale IT system integration projects in Egypt. Sameh's background also includes several years working in Telecommunications industry, as the general manager of Raya Networks Services.
From 1999 to 2000, Sameh directed Siemens, Egypt services organization, implementing nationwide fixed telecommunications networks.
Sameh was born in Cairo, Egypt in 1966. He received his bachelor's degree in electrical and computer engineering from Ain Shams University and holds an MBA degree in finance and International Business from the Arab maritime academy of management.