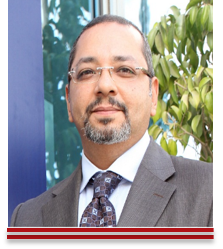 Eng. Rabie joined Etisalat Misr in 2014 as Chief Business Officer, where he established the Enterprise Business Unit (EBU) that focused on serving business customers more effectively with a progressive product portfolio and innovative solutions. During his tenure, Etisalat Misr was able to introduce complete end-to-end ICT solutions for the first time in the market, causing the EBU to experience a two digit YoY growth rate, and resulting in an increase in the company's market share.
Prior to his current position at Etisalat Misr, Rabie served As VP; Public & Economic Affairs for Ericsson, and was the company's representative towards government institutions, international, national and local authorities, as well as business/industry associations in Egypt. Moreover, Rabie assumed business responsibility over Vertical Markets business development.
Rabie had previously served as Nokia Siemens Networks' Country Director- Egypt, and was responsible for NSN growth and expansion in Egypt. He held the positions as the CEO; member of the Board of Directors in Nokia Siemens Network S.A.E and CEO of Nokia Siemens Networks LLC Egypt. He held a number of senior positions at Siemens in various locations, such as Germany, Dubai and Pakistan, and successfully contributed to the company's re-organization, re-structuring, Business Development and Account Management for key carrier accounts, wherein he established new client accounts and started a business diversity plan for the company.
Rabie graduated from Cairo University with a bachelor's degree in Communication and Computer Science Engineering. He has undertaken several professional studies and technical training programs. He concluded an Executive Management Program and Finance Diploma at Duke University; USA and Babson Executive Management; USA and he also hold a Human Recourse Management Diploma from the American University in Cairo.